We have compiled a list of the top 5 solar batteries of 2023 that meet all your home's energy requirements. Solar energy is a great way to reduce your power bills and help the planet. Pair these with a battery and now you are building thousands of mini power plants across the nation. Below you will learn the key factors which make or break a good battery. 
While Tesla is famous for its automobiles, it has also been quietly producing some quality solar energy products since 2015. The Tesla Powerwall 2 is the successor to the original Powerwall, and in this case, the sequel is better! This solar battery boasts impressive specifications that can add value to any home's renewable energy system.
Let's look at what makes the Powerwall 2 such a must-have when it comes to solar batteries:
Battery Capacity: Tesla's Powerwall 2 solar battery sets a high standard with a capacity of 13.5 kWh. This high capacity means it can power a home even when the sun is not shining
Power Output: The Powerwall 2's robust capacity comes with equally robust power output. It can deliver continuous power up to 5.8 kW and a peak power of 10 kW. With such reliable power output, it's safe to say that the Powerwall 2 is more than ready to meet a household's energy needs
Round-trip Efficiency: The Tesla Powerwall 2's round-trip efficiency is 90% and allows 90% of its impressive 13.5 kWh capacity to be used in a single charge
DoD: A DoD of 100% is an underrated selling point for the Tesla Powerwall 2. This means the solar battery can be drained entirely before needing to be charged
Warranty: Tesla offers a 10-year warranty upon purchase of the Powerwall 2. The best part about this warranty period is its unlimited cycle clause. This means the warranty lasts for the entire ten years, no matter how many times it is fully charged and drained.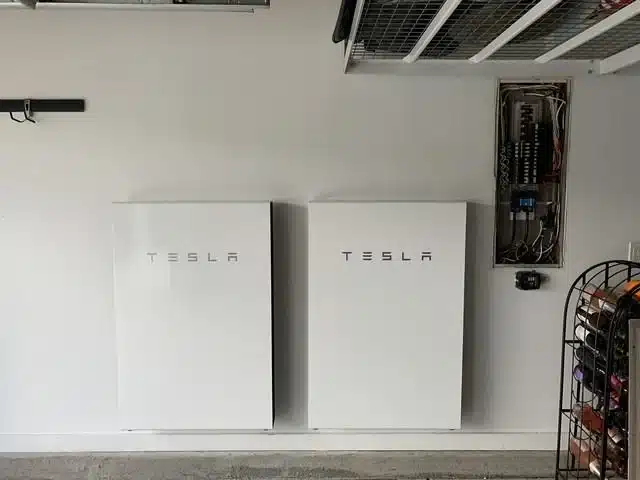 Generac started as a manufacturer of fossil fuel-powered generators and began including clean energy products in its range in the last decade. Today, its PWRcell solar battery is easily one of the best options for anyone looking to reduce their reliance on grid energy. Users can stack additional battery modules according to their needs.
Some of the features that make Generac's PWRcell such a powerhouse are:
Battery Capacity: The base model, PWRcell M3, comes preloaded with 9 kWh of battery capacity. However, by stacking on additional battery modules with capacities of 3 kWh each, the capacity can be stretched to a frankly flagrant 18 kWh. This whopping capacity is among the highest among residential solar batteries
Power Output: Since the PWRcell is a modular battery, the total power output depends on which configuration you are using in your home. Depending on the model used, you can expect a continuous power supply of anywhere between 3.4 kW to 6.7 kW
Round-trip Efficiency: The Generac PWRcell leads the way in round-trip efficiency. The DC-coupled version of this battery has an unmatched 96.5% efficiency, meaning nearly all the power you store can be used
DoD: The DoD of the PWRcell is 84%. This is slightly lower than competitors- but is offset by the sheer capacity of the PWRcell
Warranty: Generac offers a 10-year warranty for customers buying the PWRcell. However, this warranty period is also governed by a throughput clause, which means your warranty might expire before the ten years are up. Generac's throughput clause is calculated as 7.56 MWh per battery module installed.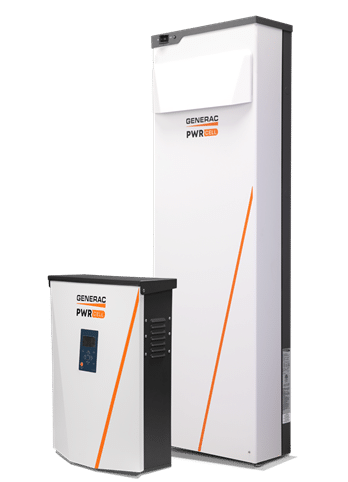 Sonnen draws its name from a German word that means "powered by the Sun"- an apt name for one of the leading providers of clean energy options. The Sonnen Eco solar battery is a modular battery, which gives buyers the option to customize according to their needs. In fact, Sonnen Eco might be the most flexible solar battery option on the market, coming in seven different sizes to service any requirement.
Here's why Sonnen Eco is such a popular solar battery:
Battery Capacity: Each battery module has a capacity of 2.5 kWh. The starting model, the Sonnen Eco 5, has a total capacity of 5 kWh. This goes up in 2.5 kWh increments to a total capacity of 20 kWh for the largest size, the Sonnen Eco 20
Power Output: As is typical with modular batteries, Sonnen Eco's power output depends on the configuration being used. Sonnen Eco 5, the smallest size available, has a continuous power rating of 3 kW, while the largest, Sonnen Eco 20, has a rating of 8 kW
Round-trip Efficiency: The Sonnen Eco's round-trip efficiency is 81.6%. While this is lower than other leading solar batteries, one advantage is that it uses the safer and more eco-friendly Lithium Iron Phosphate (LFP) technology instead of the older Nickel Manganese Cobalt (NMC) technology
DoD: With a DoD of 90%, Sonnen Eco allows you to take almost full advantage of its flexible power storage options
Warranty: The Sonnen Eco solar battery has a 10-year/10,000-cycle warranty. This 10,000-cycle limit is much higher than the industry standard of 4,000 to 6,000 cycles
LG's Chem Resu-10H is a smaller solar battery with a power-packed performance. It's a reliable, clean energy option for homes with lower energy needs.
Here's why LG Chem Resu-10H makes a great residential solar battery:
Battery Capacity: The maximum capacity is 9.8 kWh. While this is lower than other batteries, the LG Chem Resu-10H is mainly intended for residential use
Power Output: The LG Chem Resu-10H has a peak power rating of 5 kW. It comfortably matches the industry standard, despite the battery's smaller size
Round-trip Efficiency: Even though it uses the older NMC technology, the LG Chem Resu-10H has a round-trip efficiency of 94.5%, one of the highest among NMC batteries available today
DoD: With a DoD of 95%, LG Chem Resu-10H's NMC battery is longer lasting than most of its competitors
Warranty: This battery comes with a 10-year warranty. However, it also has a relatively low throughput clause of 22.4 MWh, which might end the warranty period earlier than expected
Enphase entered the storable energy market in 2019, and one of its most versatile offerings is the Enphase IQ. This solar battery comes in four stackable models- IQ 3, IQ 3T, IQ 10, and IQ 10T. The IQ 3T and IQ 10T boast similar specifications but more compact designs. Enphase IQ is also one of the smartest solar batteries on the market, with software that can automatically switch between solar and grid power- based on your preferences.
Smart and sleek, these are the reasons to opt for the Enphase IQ:
Battery Capacity: Enphase IQ's 3 and 3T models come with a total capacity of 3.36 kWh, while the 10 and 10T models have a capacity of 10.08 kWh
Power Output: This is where Enphase IQ lags. The 3 and 3T models have a continuous power rating of 1.28 kW, while the 10 and 10T have a rating of 3.84 kW. Both are lower than the industry standard of 5 kW
Round-trip Efficiency: All four Enphase IQ models have a round-trip efficiency of 96%. This helps to counteract the lower storage capacity and output.
DoD: With a DoD of 100%, it's clear that Enphase IQ's LFP batteries are safe and long-lasting
Warranty: The Enphase IQ warranty lasts for ten years, 4,000 cycles, or a throughput of 9.8 MWh for the 3 and 3T models and 29.4 MWh for the 10 and 10T models